Patcherna kommer hela tiden till Smite och dem har nu tagit bort guden Sun Wukong och ersatt han med en helt ny Maya gud, Guden är Hun Batz. Den nya apan har liknande förmågor, men där är några viktiga skillnader. Spelarna som ägde Sun Wukong eller någon av Sun Wukons skins har nu blivit skins för guden Hun Batz.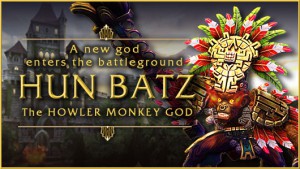 Attackerna som Hun Batz har!
Infused Strikes (Passive): Using an ability gives Hun Batz's next basic attack within the next 5 seconds additional physical damage. The effect can only apply once every 2 seconds.  Damage: 25 (+20% of your physical power).
Somersault: Hun Batz flips through the air, crashing down at his target location, doing damage to all nearby enemies and slowing them. Damage: 50/90/130/170/210 (+70% of your physical power). Slow: 50%. Slow Duration: 2s. Cost: 60. Cooldown: 15/14/13/12/11s.
Overhand Smash: Hun Batz smashes his staff to the ground in front of him, doing damage to all enemies. Damage: 85/150/215/280/345 (+100% of your physical power). Cost: 60/65/70/75/80. Cooldown: 12/11/10/9/8s.
Sacred Monkey: Hun Batz commands a monkey through the air that pounces on enemy targets, doing damage on each pounce, hitting each god only once. If the last target is an enemy god, Hun Batz teleports to that target. Damage per hit: 80/125/170/215/260 (+70% of your physical power). Max Targets: 4. Cost: 75/80/85/90/95. Cooldown: 13s.
Fear No Evil: Hun Batz summons a totem from the ground to ward off all evil. Any enemy caught within the radius is feared directly away from the totem and takes damage every .25s. Damage per Tick: 40/45/50/55/60 (+15% of your physical power). Lifetime: 1/1.25/1.5/1.75/2s. Cost: 100. Cooldown: 90s.
Där har även blivit lite andra uppdateringar.
Konst stilen i spelet har ändrats med saker som, dina stats visas nu i vänstra sidan och du kan nu se uppe i båda hörnen hur många som lever i ditt och det andra lager sedan kan du också se hur många torn som ni har kvar och hur många gudar ni har dödat!