Tjenare!
Varit lite för dåligt med uppdateringar på senaste tiden men har inte haft tid till det! Men nu har det lugnat ner sig lite så nu kör vi igen!
Smite gör ju som vanligt sina uppdateringar i spelet och nu har det kommit en ny gud samt Guan Yu har blivit helt uppgraderad!
Okej den nya guden är Zhong Kui The Demon Queller! Mycket spännande gud om jag själv får säga det! Spelar man han rätt så kan man lätt få många kills.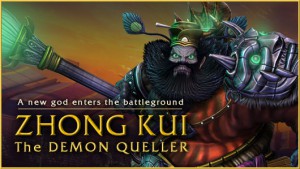 Här är en bättre beskrivning på Zhong Kui på Engelska för att det inte ska låta helt sjukt.
Demon Bag (PASSIVE)

The demons that Zhong Kui captures from Exorcism are stored in his demon bag, giving him additional protections for each demon captured. When Recall Demons is activated, Zhong Kui gains double the protections from his Demon Bag, but eventually losing all stacks when the bag is empty.

Expose Evil

Zhong Kui pastes a card on all enemies in front of him, marking them as a demon, slowing and damaging them each second while they are marked. If the card is removed, 50% of the remaining damage is done instantly. Damage Per Tick: 20/30/40/50/60 (+15% of your magical power). Slow: 20%. Card Lifetime: 6s. Cost: 60/65/70/75/80. Cooldown: 10s.

Exorcism

Zhong Kui drives out the demons of his enemies, dealing damage as they leave the body. Demons marked by Expose Evil are captured by Zhong Kui, healing him per demon captured (up to 3), and have the card removed. Damage: 75/125/175/225/275 (+50% of your magical power). Heal: 30/45/60/75/90 (+20% of your magical power). Cost: 20/40/60/80/100. Cooldown: 13s.

Book of Demons

When fired, the Book of Demons deals damage and stuns nearby enemies, with marked enemies getting stunned for 2x the duration and removing the card. When this ability is not on cooldown, the Book of Demons flies nearby Zhong Kui, firing for 50% of Zhong Kui's basic damage. Damage: 60/115/170/225/280 (+70% of your magical power). Stun: .5/.6/.8/.9s (2x for marked targets). Cost: 75/80/85/90/85. Cooldown: 10s.

Recall Demons

When Zhong Kui activates this ability, demons pulse out from his bag at nearby players every second for 5s. They chase and accelerate over time, doing damage to enemies and healing to allies as they enter the body. Zhong Kui is immunte to crowd control for the duration. Damage: 80/95/110/125/140 (+20% of your magical power). Healing: 25/40/55/70/85 (+20% of your magical power). Cost: 100. Cooldown: 90s.
Där har vi allt om hans attacker som kan vara bra att veta! Här kommer även en Game Play video med Zhong Kui för att sätta liv i det ni precis läste!
Sedan har vi då uppdateringarna på Guan Yu som har gjort han helt annorlunda om vi ska jämföra han med innan. Guan har bland annat fått en helt ny modell och nya animationer samt några små ändringar på attackerna.
Läs Mer