Smite Neith Weaver of Fate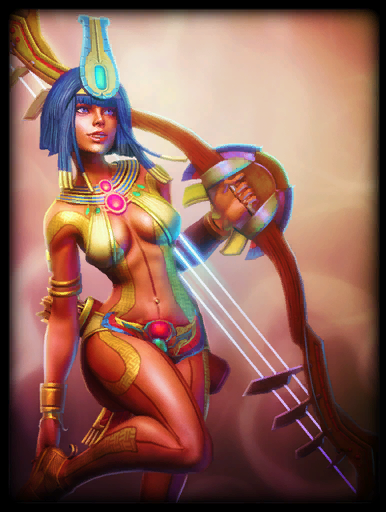 Smite har nu äntligen kommit till 30 gudar och det är en stor milstolpe för Hi-rez Stuido och spelet.
Gud numer 30 blev guden Neith som är en egyptisk gudina.
I smite så är Neith en physical range med en båge som artemist! Hon har som alla andra gudar 4 attacker + en passiv.
Den första är :
Passiv – Brutna Träns – A Broken Weave visas på den sista platsen som varje fiende Gud dör. The Broken Weave ger Neith minimap synlighet och hennes förmågor har sekundära effekter när de används på skadad vävar.

Första riktiga attacken är.
 Spirit Arrow – Fire ett skott som går genom alla fiender, som handlar (X) fysiska skador och stunnar det första målet i 2 sekunder. Successiva fiender slår ta 75% skador och 75% rot. Om den träffar ett Broken Weave, väven exploderar, som handlar ytterligare 100% av skadorna och rot som AOE. Cooldown – 13s

Den andra är:
Avslöja – Neith prydligt river upp världen med Broken weaves r, skadar alla fiender i målområdet, vilket minskar deras attack hastighet och helande Neith för varje fiende träff, upp till 3. Några brutna vävar i området tas bort, läkande Neith för ett extra belopp. Cooldown – 15s

Den tredje är:
Tillbaka Flip – Du vänder tillbaka genom luften, vilket skapar ett trasigt Weave som du skadar fiender i en smal kon framför dig för (X), saktar dem med 25% för 4.5s. Cooldown – 10s

Den frjärde attacken som är special attacken är:
Världen Weaver – Neith laddar upp och skjuter en pil över hela världen, som söker det mål och passerar genom alla hinder. Enemy gudar tar skada och bedövas när Brutna vävar som drabbas kommer att tillämpa samma effekter för alla i området. Pilen kan eldas snabbare för minskade resultat. Cooldown – 90
Riktigt spännande gud! Riktigt rolig att spela också! Ta och kolla in videon så får ni en annan blick av hur Neith den egyptiska guden är