Chronos är den nya guden som är spel klar i Smite! Det kom en hel det grejor under denna patchen som Chronos kom i.
Nya saker som går att hitta i spelet är bland annat Young Zeus som är en yngre model av Zeus mycket snyggt skin! He Bo haar nu också fått ett guld skin, där har även kommit legendariska skin till alla gudar som har guld skins. Dem legendariska skinen går bara att använda när du är gud lvl 10.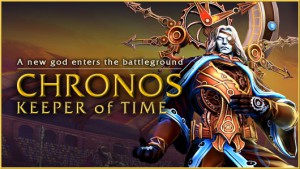 Jungel buffsen har också blivit ändrade! Den sidan som dödar en jungel buff är den ända sidan som kan plocka upp buffen, det är nu inte den som dödar den som får den automatiskt den droppas och ligger nu på marken så att någon i laget kan plocka upp den.
Här är Chronos attacker och Video.
PASSIVE – Wheel of Time

The wheel of time is always spinning and for Chronos, it is no different. Depending on where the wheel is when activating Accelerate, it provides a different benefit to Chronos.

Section I = +20% Magical Lifesteal
Section II = 75% Mana Refund On Abilities
Section III = +20% Magical Power
Section IV = +35% Magical Power Contribution to Basic Attacks

Time Rift

Chronos creates a rift in time, dealing 80/125/170/215/260 (+85% of your magical power) magical damage to all enemies in the area.  Cost – 50/55/60/65/70 mana.  Cooldown – 5s.

Accelerate

Chronos accelerates himself over time, allowing him to progressively move 10/15/20/25/30% faster for 8 seconds. While active, his attack speed is increased by 20/25/30/35/40% and he is not affected by the attacking movement speed debuff. This ability also stops the Wheel of Time.  Cost – 70/75/80/85/90 mana.  Cooldown – 15s.

Stop Time

Shooting forward spinning gears of time, any enemies hit by Chronos' attack are slowed to a stop, taking 30/50/70/90/110 (+40% of your magical power) magical damage on the initial hit and again when they are stunned for 1s.  Cost – 65/70/75/80/85 mana.  Cooldown – 16/15/14/13/12s.

Rewind

Chronos travels through time to where he was 8 seconds ago, gaining health and mana back to the values of that time. All of his cooldowns are instantly reset as well.  Cost – 100 mana.  Cooldown – 120/110/100/90/80s.