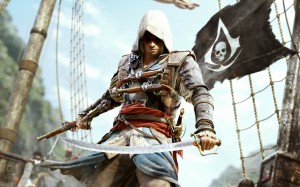 Är ni redo för nästa steg i Assasin´s Creed serien? Den 29 oktober(xbox ps3) och den 22 november(pc) ska Assasin´s Creed IV: Black Flag bemästras utav spelare! Är ni redo för att hoppa in i The Golden Age of Pirates? Assassin 's Creed IV Black Flag utspelar sig runt år 1715, då pirater etablerat ett laglöst republik i Västindien och styrde tillslut både land och hav. Dessa fredlösa förlamade flottor, stoppade även den internationell handel, och plundrade stora förmögenheter. Dem hotade ledarna som styrde Europa. inspirerat fantasin hos miljontals, och lämnade ett arv som fortfarande består.
Vi får nu ta del utav den största Assassin 's Creed värld som någonsin skapats. Stå bland dem legendariska pirater som Blackbeard, Calico Jack och Benjamin Hornigold, som du etablerar ett laglöst republik i Bahamas och återuppleva de verkligt explosiva händelser som definierats som The Golden Age of Pirates. Från Kingston till Nassau, där finns över 50 unika platser att undersöka där du kan leva som en pirat. Va en Kapten och skräddarsy ditt egna skepp, sök efter dem försvunna skatten, jaga sällsynta djur och plundra skeppsvrak.
Detta är klart ett spännande spel som måste prövas! Med makalösa äventyr och uppdrag som kommer att ändra din syn på pirater och spel!
Som spelare i denna värld så seglar du som ung, kaxig och skräckinjagande kapten vid namn Edward Kenway. Hans skicklighet med ett svärd och förakt för auktoritet tjäna honom respekt för pirat legender som Svartskägg.
Detta är klart ett spel som jag kommer köpa och jag tycker även att ni ska göra det med! Assasin´s Creed serien gör en aldrig besviken!
Spel Trailern kommer här om ni inte har sätt den innan!