Det är dags att göra sig redo för zenimax lansering utav The Elder Scrolls Online: Tamriel Unlimited till konsol den 9 juni, och detta ger dig då chansen att äntligen få utforska Tamriel utan att behöva betala månads avgift. The Elder Scrolls Online: Tamriel Unlimited släpps även för PC / Mac den 17 mars.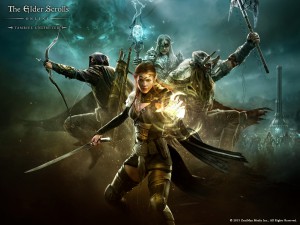 För första gången i historien så kommer du att kunna utforska den mysteriska värld Tamriel med dina vänner på konsolen. Dem är extremt glada att The Elder Scrolls® Online kommer till Playstation 4 och Xbox One globalt den 9 juni 2015 ( The Elder Scrolls® Online: Tamriel Unlimited) detta är det största Elder Scrolls spel som någonsin gjorts och det låter dig välja att antingen göra äventyret ensam eller kanske jaga med vänner, eller gå med i en armé med hundratals andra spelare för att spela PVP .
Det bästa med lanseringen utav Tamriel Unlimited den 9 juni och PC / Mac den 17 mars 2015 så kommer du att slippa betala en månads avgift för att spela ESO.
The Elder Scrolls Online: Tamriel Unlimited innehåller allt från det ursprungliga PC / Mac spel, plus alla uppdateringar och innehålls tillägg, inklusive de nya spännande rättsliga och Champion system. Om du någonsin spelat ESO, kommer du att uppmanas att återvända till spelet och uppleva allt nytt i världen. Om du är ny till ESO, kommer du att behöva göra ett engångs köp utav speletet och sedan kan du fortsätta spela utan begränsningar så länge du vill.
I Tamriel Unlimited kommer du att kunna köpa frivilliga nedladdningsbara innehåll, och den nya in-game Crown Store kommer att erbjuda bekvämlighet och anpassning poster. Om du väljer kan du betala en enda månadsavgift för vår premiummedlemskap, ESO Plus, om du betalar i månaden så kommer du att få en del fördelar och en månatlig tilldelning av kronor att spendera i butiken. EOS teamet har åtagit sig till att tillhandahålla en stor upplevelse för alla spelare, och då kommer spelarna kunna förvänta sig kontinuerliga uppdateringar som är kostnadsfria utöver butikens bud. Du kan läsa hela pressmeddelandet för mer information här
För att fira dessa två stora tillkännagivanden har EOS släppt släppt den slutliga posten i deras fyrdelade serien filmiska trailers, konfrontationen. Njut!